Après avoir été l'égérie d'Yves Coppens pour la théorie de l' East Side Story de l'aventure humaine, Lucy, ou plutôt les 52 fragments de squelette, qui résument les vestiges fossilisés d'un hominidé de l'espèce Australopithecus afarensis se sont envolés à la mi-août à bord d'un avion des Ethiopian Airlines pour se rendre à Houston, Texas, où ils constituent depuis vendredi 31 août 2007 l'élément central de l'exposition «Lucy's Legacy : The Hidden Treasures of Ethiopia ». Jusqu'au 20 avril 2008 ses ossements demeureront exposés à Houston, puis, comme une grande vedette en tournée, Lucy partira pour faire son show durant 6 ans dans différents musées du Nouveau Monde pour y accomplir sa West Side Story.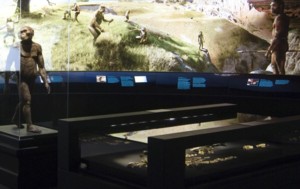 Lucy exposée à Houston, Texas (Photo: Houston Museum of natural science)
Mais est-ce bien raisonnable de déplacer ainsi des vestiges vieux de 3,2 millions d'années ? N'aurait-il pas été moins risqué d'exposer des copies des ossements plutôt que les originaux. C'est en tout cas ce que pense un grand nombre de paléoanthropologues consultés sur la question. Car depuis sa découverte en 1974 par l'International Afar Research Expedition, Lucy a été soigneusement conservée dans une chambre forte climatisée au Musée national d'Ethiopie et n'en a été sortie que pour des recherches scientifiques et seulement pour deux expositions publiques. Gageons que la présence des originaux au lieu des copies n'ajoute aucun intérêt à la valeur scientifique de cette exposition. Seule la valeur symbolique et sans doute également mercantile s'en trouvent notablement renforcées. Prénommée d'après la chanson des Beatles Lucy in the sky with diamonds, notre jeune Australopithèque s'est juste envolée d'Ethiopie pour faire recette.
---