La bibliothèque digitale de l'université du Sud de la Californie (USC Digital Library) s'est vue remettre le 20 novembre à la Nouvelle-Orléans, le prix de l'archéologie ouverte (Open Archaeology Prize) de l'American Schools of Oriental Research (ASOR) pour la publication en ligne d'une carte archéologique de la Cisjordanie. Fondée en 1900 et hébergée par l'Université de Boston, l'ASOR est une organisation non gouvernementale qui encourage les études sur les cultures du Proche-Orient dans la perspective de favoriser la compréhension entre les peuples de la région. Sponsorisé par l'Alexandria Archive Institute, le prix attribué a pour but, chaque année  depuis 2007, de mettre en évidence la meilleure contribution digitale librement accessible sur l'Internet au grand public et conçue par l'un des membres de l'ASOR.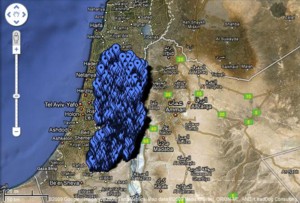 Vue générale de la carte
Sous le nom de « The West Bank and Jerusalem East Searchable Map », la carte récompensée  est  consultable par l'entremise de l'application Google Map.  S'y trouvent recensés tous les sites fouillés ou découverts en Cisjordanie depuis plus de quarante ans par les archéologues israéliens et palestiniens. Regroupés au sein du Groupe de travail israelo-palestinien d'Archéologie,  des archéologues  des deux bords ont réunis des données sur près de 7000 gisements  de cette région. Cette base contient pour chaque site archéologique: un nom, une coordonnée SIG, une description de sa nature principale (grotte, tombe, citerne, village, tell, bain rituel, route…), une période d'activité allant du Néolithique à l'ère ottomane, ainsi que des informations sur les personnes l'ayant fouillé ou découvert, de même que des références bibliographiques. L'aboutissement de ce projet, démontre une collaboration réjouissante entre étatsuniens, israéliens et palestiniens et une contribution essentielle dans la perspective de la création d'un état Palestinien, car le riche héritage culturel dont témoigne cette base de donnée est commun aux deux populations principales de la région et ne saurait connaitre de frontières.
---